Used Toyota Gearboxes For Sale
We sell used and imported Toyota gearboxes and parts.
GET GEARBOX PRICES
Toyota Gearboxes For All Models For Sale
We dismantle wrecked Toyotas for their gearboxes. Toyota Gearboxes are also imported from different overseas manufacturers. Our transmissions are of high quality, have minimal wear and tear mileage, and are reasonably priced. So, if you are looking to replace your gearbox, we will undoubtedly be able to assist you.
Check out our collection of gearboxes below. Make a mental note of the gearbox number. If you're not sure what number your gearbox is, ask your local technician; they'll be able to help!
If your gearbox isn't mentioned here, please contact us anyhow! Most of the time, we will be able to find your gearbox for you!
About Gearboxes
ADVANTAGES AND DISADVANTAGES OF TRANSMISSION TYPES
A gearbox is a group of devices that transmit torque from the engine to the drive wheels while also adjusting traction as driving circumstances change. The following are the node's primary components:
Transmission; Main bridge; Differential; Clutch system
These components enable the vehicle to drive in any direction and at any speed within a certain range.
What are the various modes of transmission?
In terms of drive type
This criteria distinguishes three kinds of nodes: those with front, rear, or all-wheel drive.
AWD (all-wheel drive)
All transmission components are positioned under the bonnet of the vehicle in a front-wheel drive arrangement, creating a complex system of mechanics. The motor's efficiency has improved as a result of the short distance between the power unit and the drive wheels. The compact size of the components and the lack of a propeller shaft allow for more room in the cabin. Furthermore, vehicles with a leading front axle are lighter and more sensitive to handle.
Disadvantages of front wheel drive include: perceptible engine vibration regardless of engine type;
The front wheels begin to slide after a quick start;
Due to the combination of steering and a constant velocity joint, the turning radius is large.
Rear-drive
The engine's power is transmitted to the rear axle and wheels. This kind of gearbox has a high dynamic load, which enhances the vehicle's cross-country capabilities on poor roads, boosts the car's handling in drifts, and enables you to accelerate fast without excessive steering lock. The rear-wheel drive configuration has found a home in sports vehicles, extreme racing cars, and drifting events.
The rear propeller shaft adds weight to the vehicle while having little effect on acceleration dynamics. Furthermore, the engine's operation is not accompanied by vibrations, which is owing to the longitudinal layout and direct placement of the engine on the softening components.
The major drawback of rear-wheel drive is the loss of useable cabin area owing to the need of tunnels for the propeller shaft installation. Also, according to driver evaluations, driving off-road in a vehicle with a driving rear axle is tough.
All-wheel drive
Torque is delivered to the front and rear axles simultaneously in four-wheel drive vehicles, causing all wheels to drive. This has the following advantages:
Increased cross-country capability of the machine owing to equal weight distribution across all wheels; High directional stability; Low danger of sliding; Front or rear wheel drive choice to conserve fuel under typical driving circumstances.
The layout is frequently seen in SUVs, crossovers, and other vehicle bodywork intended for off-road or normal travel on poor roads.
The drawbacks of all-wheel drive are purely costly. Because of the device's complexity, this kind of transmission consumes more gasoline and is more costly to fix.
In terms of transmission mode
Mechanical
A manual gearbox is a kind of unit in which the driving mode is changed by manually moving the lever while depressing the clutch pedal. Torque is transmitted via gears and friction components. The number of phases ranges from four to six or more (the most common 5-stage configuration). Despite the fact that this is the original kind of checkpoint, it is still in high demand.
The following are some of the benefits of a mechanical box:
High efficiency; reasonable fuel and oil consumption; maintainability; low service cost;
Towing and coasting are options (especially important for the harsh Russian climate).
Manual gearbox has the following disadvantages:
Inability to change speeds smoothly; Complexity of control for novices; Inconvenient mode changing on crowded highways (for example, in megacities);
Driver tiredness caused by continuous moving of the lever and pressing of the clutch pedal.
Robotic
The robot transmission is a manual gearbox with automated gear changing. The shafts, clutch disc, and basket are all there, like in traditional mechanics, but there is no clutch pedal. The change in driving mode is accomplished via the use of built-in servo or electronic drives.
The benefits of a manual gearbox are as follows:
There is no need for the driver to shift the lever or depress the clutch pedal.
A robotic box is less expensive than a traditional machine.
Fuel economy; the ability to coast and tow.
A robotic gearbox has the following drawbacks as compared to a traditional automatic transmission:
Gear shifting is delayed (manufacturers are already addressing this issue with a preselective gearbox with two clutches); changing driving modes is accompanied by jolts;
When beginning from a point, there is a little rollback; the control unit (servomechanisms) has a propensity to fail.
Thermomechanical (classic)
This is an automated gearbox, which is typical in our minds, implying autonomous speed changes with little driver input. When changing modes, the vehicle owner simply has to push the gas pedal with some effort and move the lever to a different position (reverse, parking, neutral, etc.).
Instead of a clutch, an automated transmission uses a torque converter, which is placed independently from the gearbox. This mechanism transfers transmission fluid pressure from one impeller to another, allowing for a smooth shift in speed while driving.
The automated box has the following advantages:
Ease of driving for novices; absence of jerks, jerks while changing driving modes (in excellent technical condition);
Backward refusal is not permitted when beginning from a vantage point on a slope;
Transmission; Extending the service life of the power unit;
The driver is not distracted by manual gear changing, making driving safe and pleasant.
Torque transmission is continuous for simple driving.
CVT (Continuous Variable Transmission) (stepless gearbox)
A belt transmits the torque to the vehicle axle (chain). The gear ratio is changed when the pulley diameter varies, with the value determined by the force applied to the accelerator pedal.
The variator box has the following advantages:
Smooth speed changes; no jolts or jerks while changing gears; suitable for tiny engines
Lowest possible fuel usage.
The only drawbacks are the high cost of maintenance and the car's sluggish acceleration. It is also important to note the precautions:
Starting from a stop should be smooth, with no abrupt pushing of the gas pedal (to avoid towing).
Towing large trailers shortens the life of the belt.
Due to torque limitations, this product is incompatible with high-power motors.
Hydrostatic
The architecture of these transmissions enables motor power to be sent across great distances to working components. The variant has found widespread use in road construction machines, metal-cutting machines, yachts, and other kinds of equipment requiring a high gear ratio.
The equipment has raised the transmission fluid's quality standards.
Hydraulic
Each gear has its own fluid connection, allowing you to transfer the maximum torque without vibrations or jerks. The transmission is most often seen on railway vehicles.
Electromechanical
This gearbox is used in conjunction with an electric motor. A current generator, a control system, and electrical cable for connecting working units are the primary components. Some models are utilized in agriculture, maritime technology, public transportation, and other fields.
Transmissions of all kinds are susceptible to breakdowns to different degrees. If you discover indications of improper checkpoint functioning, please notify the Avir Group business. We specialize in transmission repair for trucks, passenger cars, and other kinds of special equipment.
We Deliver Across South Africa!
If you cannot come and collect your Toyota salvage parts yourself, we use the best couriers in South Africa to track your parcels and deliver to your door. We do NOT have an online store, so all purchases are made via phone calls.
Sell Your Toyota For Parts!
If you have a non-running Toyota and are looking to scrap it for cash we at Sell Toyota For Scrap offer a quick and easy service. With over 20 years of experience in auto salvage, you know your car will be processed professionally and efficiently.
You Are In Safe Hands!
Toyota Parts Finder saves you the hassle of calling countless, different salvage yards to find the right parts to fix your car. We've had these auto scrap yard experts handpick only the best salvage yards in South Africa for easy access and quick delivery!
Toyota's Stripping For Spares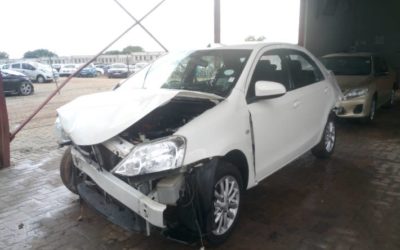 This vehicle is accident damaged and being stripped for spare parts. If you would like to purchase a specific part of this vehicle, please email us through our contact us page. Get Prices For Popular Parts For the Toyota Etios Front bumper Hood Windshield Headlight...