Used Toyota MR2 Parts For Sale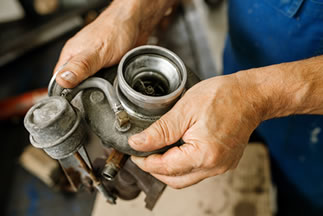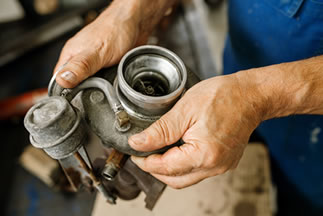 Need reliable spares for your car which are hard to find? We are one of South Africa's most trusted online sellers of genuine used parts. You can depend on we've the component you will need with our huge selection of parts available. We give a substantial choice of high quality used Toyota spare parts at competitive prices. We only offer high-quality used auto parts and do thorough inspections on every used component we sell, so you can purchase with confidence from us.
Our Stock


Whether you are after a specific part or want to browse, please feel free to contact us. We specialize in providing spares from all around South Africa for a broad variety of models and makes. We're just a phone call away, so there's no need to waste time and gas driving from scrap yard to scrap yard looking for the appropriate Toyota parts for your MR2.
Date

vehicle-year

Requirements

2022-06-22 12:25:56 +00:00

2002

1800

I need ventilated disk brakes (rotor) for a 2002 toyota MR2 mk3. Toyota MR2 Front and back Ventilated Brake Discs

2022-05-07 10:12:15 +00:00

1999

S3,fe

I'm looking for the inner CV on the gearbox on the left hand side

2022-04-20 10:54:21 +00:00

2002

Hi. I need a full headlamp unit fro the right side. I am also looking for front left & right fender liners.

2022-01-09 09:05:28 +00:00

1234

2.0

Looking for a e51or e153 toyota gearbox

2021-12-01 22:08:49 +00:00

Good Day
Looking for "Soft Top" only the Roof for the 2001 Toyotta Mr2 if possible and in stock

2021-11-21 18:49:47 +00:00

2001

1.8

Hi, I am looking for the "kit" to fit a hardtop to to my MR2.
Any possibility that you have spares available?
Thank
Gawie
082 337 5929

2021-11-12 18:40:16 +00:00

2001

1.8

Good day, I would like to have a quotation for the back bumper of my Toyota MR 2 please. I am based in Kimberley.
About the MR2
About The Toyota MR2
The MR2 is a two-door, two-seater mid-engined convertible sports car sold by Toyota from 1984 to 2007 over three generations. The first generation MR2 was originally sold only in Japan and the United States, while the subsequent generations were also sold in Europe and as the Toyota Altezza in Japan. The current (third) generation car was available as an affordable rear-wheel drive roadster with standard front-engine, rear-wheel drive, and as a full-time four-wheel drive with automatic transmission.
Engine
The Toyota MR2 is available to consumers in two engine configurations. The base configuration features a 1.8-litre four-cylinder 16-valve twin-cam engine, while the GT package features a 2-litre 16 valve twin cam engine. Both engines feature the Toyota Variable Valve Timing and Lift Electronic Control or VVTL-i. While the base model is capable of up to 130 km/h, the GT version is only limited to 127 km/h because of generally stricter standards applied to vehicles sold in Japan. To compensate for this lower top speed, the gear ratios are optimized so that 0-100 km/h acceleration will be improved by around 1 second compared to the base model.
Aerodynamics
The MR2 features an aerodynamic body with sleek lines throughout its exterior design while maintaining a rigid chassis to go along with it. The mid-engine placement ensures perfect weight distribution while also allowing for easy entry into and out of tight parking spaces at least in theory. The front nose cone extends well below the front bumper to give the vehicle a low center of gravity. The MR2 also features an automatically operated soft top convertible roof which opens in less than 10 seconds, allowing the driver and passengers to enjoy the summer heat or go for a quick drive during rainstorms without any fuss whatsoever.
Exterior
The exterior design was created by Yuh Hijiri, who had previously designed several notable Japanese automobiles such as the 1973 Mazda RX-3 and 1978 Toyota Celica. His design for the MR2 took three years to complete before it was unveiled at the 1983 Tokyo Motor Show. The concept model received mixed feedback from critics; some believed that due to its unique wedge shape it would not find many buyers while others believed that the concept model was exactly what they wanted in a new car.
Toyota's initial intention of making the MR2 was to rival European cars like the Porsche 944 while remaining affordable for middle-class buyers; however, it did not achieve either of these goals at its initial release price of ¥3,349,000 (1983 Japan market). Instead of directly competing with more expensive sports cars like the Porsche 944 and Nissan 300ZX, Toyota chose to focus on providing luxury features such as power windows and locks, automatic climate control A/C system, leather seats, and alloy wheels while keeping its sticker price down by omitting some options available in other markets.
Features
The MR2 is offered with several standard performance oriented features that are more commonly associated with high-end models. Features such as power windows and locks, automatic climate control A/C system, leather seats, speakers built into the roll bar for rear passengers to enjoy music while on a drive, and graduated lift-off roof panels are offered in addition to front opening doors. The MR2 also has a few options available for buyers who desire certain convenience features not usually found in an average sports car. Some of these options include navigation systems or a sunroof which can be opened from the driver's seat with just one touch of a button.
Toyota also chose to omit some features that were offered by other manufacturers at this time because they did not fit into the vision for new sports car. Airbags, anti-lock brakes, and even an offering of any V6 engine were never available. The decision for omitting these features was that Toyota believed in the durability of the vehicle instead of adding unnecessary safety options to protect drivers who bought sports cars with little concern for safety in mind in the first place.
Related:
We Deliver Across South Africa!
If you cannot come and collect your Toyota salvage parts yourself, we use the best couriers in South Africa to deliver to your door. We do NOT have an online store, so all purchases are made via phone calls.
Sell Your MR2 For Parts!
We buy non-runners and accident-damaged Toyota's and sell them for parts. We will consider all vehicle types no matter how bad the damage. If you wish to get cash for your car, please get in touch with us today!
You Are In Safe Hands!
We've handpicked the best salvage yards in South Africa to ensure that you'll have no trouble finding the right parts to fix your car. Our team of auto scrap yard experts have been serving the public for years!
Toyota's Stripping For Spares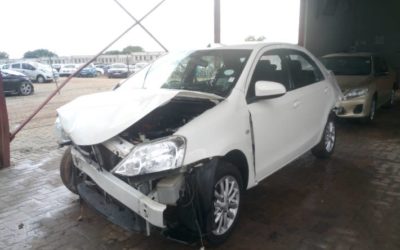 This vehicle is accident damaged and being stripped for spare parts. If you would like to purchase a specific part of this vehicle, please email us through our contact us page. Get Prices For Popular Parts For the Toyota Etios Front bumper Hood Windshield Headlight...