Used Toyota C-HR Parts For Sale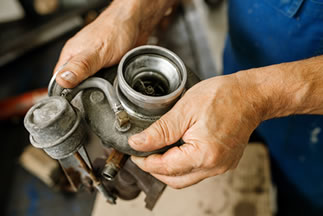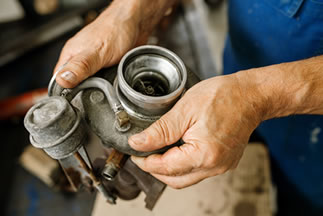 Looking for hard-to-find authentic spares for your car? We are one of the leading used C-HR spares dealers in South Africa. You will be confident that we will hold the part you'll need due to our considerable supply. We supply a giant array of high quality used Toyota spares at competitive prices. We only offer quality car or truck parts and perform thorough checks on every used part we sell to be able to buy from us with peace of mind.
Our Stock


Please do not hesitate to contact us if you are looking for a particular component or just wish to browse. We specialise in supplying spare parts for all Toyota models from all over South Africa. We're only a phone call away, so there really is no need to travel from scrap yard to scrap yard wasting both your time and petrol trying to find the right Toyota parts for your car.
Recent C-HR Part Requests
Date

vehicle-year

Engine

Requirements

2023-11-23 18:32:41 +00:00

2017

1.2

.

2023-11-15 14:47:22 +00:00

Front seats (left and right)

2023-11-06 09:41:54 +00:00

2017

Looking for space saver wheel and all fittings including polystyrene inserts and spare wheel cover to replace the full sized spare in my car.
Please email.

2023-10-10 13:47:34 +00:00

1986

2 L

injection pump drive pully needed for Toyota 2C motor

2023-10-08 19:57:19 +00:00

2019

1.2

Please send me a quote of air-fuel sensor

2023-10-07 07:31:27 +00:00

2018

1.2 turbo

I have a few parts like plastic parts on the door and middle consol, i also need some interior in the boot as I messed some glue on mine

2023-09-28 17:35:22 +00:00

2021

2.2

Parts required

2023-09-07 15:01:05 +00:00

2.0

Im looking for a Camshaft sensor Harness

2023-09-07 15:01:05 +00:00

2.0

Im looking for a Camshaft sensor Harness

2023-09-04 13:26:22 +00:00

2017

1.2

I'm looking for a High-pressure fuel pump sitting next to the tappet cover,

2023-09-02 07:40:20 +00:00

2018

1.2 turbo plus cvt

Im looking for a Condeser from the aircon.

2023-08-25 23:25:02 +00:00

2020

1.2T

Driver side rear arch trim ( black)

2023-08-21 06:48:13 +00:00

2017

1.2

Look for all radiators bonnet lef fender complete bumper,left headlight,airboks,front crossbars

2023-08-20 07:03:53 +00:00

2019

Hi I need bottle for wipers and boot speaker holder

2023-08-14 09:25:40 +00:00

2020

I am looking for a front bumper for Toyota CHR
About the C-HR
About The Toyota C-HR
The Toyota CH-R has a 1.5 litre 4 cylinder engine which provides 148 lbs/ft of torque at 4000 rpm. The combination of the 4 cylinders with the direct injection system delivers an impressive 114.3 MPG for this petrol powered i-VTEC engine. Fitted with a 5 speed manual gearbox and driving experience is enhanced by the light weight, rack and pinion steering and a new dual stage variable ratio (VRS-) electronic power steering system.
Common parts sold on the Toyota CH-R
Toyota CH-R Engine Block
the engine block is the main housing unit for the pistons, cylinders and spark plugs. The engine block has many important functions including supporting the crankshaft, oil pan, camshaft and front cover assembly. As each of these components work with great precision in order to provide efficient power output, it is critical that the engine block maintains its form and structure for as long as possible. If the engine block starts to wear out, it is time for a new one to be installed.
Toyota CH-R Cylinder Head
The cylinder head is also extremely important in terms of getting power to the wheels through cable actuation. When the spark plugs fire within each respective cylinder, they produce great pressure which forces hot combustion gases into the engine manifold where they are then directed towards the turbocharger for further pressurization. This process can only happen when all valves within the cylinders are open and allowing movement in certain directions – otherwise pressure would build up and have nowhere to go but back into the engine block itself. To allow this specific type of movement, a solid metal cylinder head is used which has hundreds of strategically-placed slats in the cover to provide the required amounts of airflow. When these slats start to go out of shape or have small cracks appear in them, it's time for a new one to be installed.
Toyota CH-R Piston
A piston is a long metal cylinder that fits tightly inside the engine block and has rings running around its circumference. When an engine is running, the crankshaft drives up and down as pistons fire in order to provide rotational energy for the wheels. Pistons are often made from aluminum or other light materials because their function requires them to move extremely fast so as not to hinder performance – this means that even if they stop moving, little heat will be created and transferred into the rest of the engine which makes overheating less likely. If there's any risk of overheating occurring and it becomes too great, then pistons need replacing as soon as possible in order to make sure they don't warp or break.
Toyota CH-R Crankshaft
The crankshaft is one of the most important parts on an engine as it is responsible for converting rotational energy into linear force which then pushes down each respective piston to create pressure and power. Because this process happens hundreds of times per minute, there are often forces that impose wear and tear on the crankshaft itself – especially if the engine block isn't properly maintained. When these types of damage start to appear, it's time to replace the crankshaft in order to prevent any future problems with broken connecting rods or other components that work hand-in-hand with it.
Toyota CH-R Camshaft
The camshaft is responsible for opening and closing the valves within each cylinder, allowing pressure to enter through the intake valve and pressurize the engine block – it also allows air to escape out of the combustion chamber. When a car starts up or goes into reverse, the pistons must move in such a way that makes it possible for them to compress fuel and create pressure which is then needed for combustion to take place. Without this crucial part working as intended, the vehicle would be unable to function properly on what little power it had available which makes having a new one installed all but essential.
Toyota CH-R Oil Pan
The oil pan is attached to the bottom of the engine block and provides space for all of the excess oil that isn't needed within the rest of the engine. This specific type of fluid needs to be constantly recycled so as not to decrease how much pressure an engine has available which is why it's important whenever a new one is installed on a vehicle before taking it out for a test drive. Common problems for replacement are oil leaks or build-up of sludge which could affect the performance and safety of the car.
Common Toyota CH-R Body Parts Needing Replacment
Toyota CH-R Grille
The grille is responsible for providing proper ventilation within the engine bay, allowing fresh air to flow into it whenever an engine needs cooling – this prevents excess heat from being generated which could cause damage to the rest of the car. As grilles age, they can become loose or damaged which increases the risk for letting in unnecessary amounts of dirt and debris that gets stuck beneath it. This makes cleaning them a bare necessity whenever they start looking old or worn out so as not to compromise how effective it is when working – having a new one installed helps prevent road accidents caused by this kind of problem.
Toyota CH-R Bonnet
The bonnet is an essential part on any car because it covers up all of the engine and most other parts underneath it – its main purpose is meant for protection but if there's ever an issue with how much weight it can support, it will be entirely compromised which would result in irreparable damage to all of the internal components. Common problems with older bonnets are rusting, warping or cracking – these issues must be resolved as soon as they appear by having a new one installed immediately.
Toyota CH-R Headlights
Headlights are responsible for providing illumination whenever it's dark outside – its job is to ensure that other drivers on the road can see where they're going and also know if there are any safety hazards ahead. Over time, headlight lenses tend to go bad because of oxidation of various chemicals used within them – this makes having a replacement installed especially important so everyone else on the road remains safe at all times.
Toyota CH-R Tail Light
The tail light is used to tell other drivers on the road when braking has been employed, making sure that everyone else knows what's happening especially if it's dark out. Over time, these components can become faulty which could result in them not working properly – having a replacement installed helps prevent dangerous situations where cars could lose control or even go off the road without warning.
Toyota CH-R Radiator
The radiator is responsible for cooling down the engine whenever it gets too hot, especially during summer months which makes it necessary to have a new one installed before going on a long trip. A leaking radiator usually results in overheating which could cause serious damage to the rest of the engine – this requires having a replacement as soon as possible so that everyone else on the road remains safe at all times.
Toyota CH-R Gearbox
The gearbox allows gears to be switched from one speed to another, allowing proper acceleration and slowing down depending on what kind of driving needs to be done. As time goes by, these components require resurfacing or reconfiguration so as not to decrease effective they are when working. Common issues with gearboxes include grinding when trying to switch from one speed to another or even getting stuck in a certain position – having them replaced before they cause any other problems will help prevent further damage.
Toyota CH-R Diff
A vehicle's differential is responsible for distributing the power from the engine to all four wheels, making sure that it can be applied whenever needed. Problems with this component tend to manifest themselves whenever going around corners or through water where traction is compromised – these signs should not be ignored especially if it starts wearing out so as not to compromise safety at all times.
Toyota CH-R Doors
The door is the primary means of entry and exit whenever anyone is driving, making it an essential part on any car. Over time, these components tend to develop rusty areas or even break completely which requires having replacements installed especially before they can cause further damage – common problems with older doors include not closing properly or getting stuck when trying to open.
Toyota CH-R Fenders
Fenders are located on both sides of the vehicle for protection for both the driver and passengers as well as other drivers on the road – this component acts like an extra wall that helps absorb some of the shock whenever there's a collision during accidents. Problems with this component tend to manifest themselves whenever the paint starts getting chipped off or there are large dents which also show signs of rust.
Toyota CH-R Bootlid
The bootlid is located on the back of a vehicle and makes it easier for drivers to load cargo inside – problems with this component usually develop when the hinges start wearing out so it's important to have them replaced as soon as possible. Common issues with bootlids include opening/closing slowly, not fitting properly, developing large dents or showing signs of rust.
Toyota CH-R Front Windscreen
The front windscreen helps protect both the driver passengers from debris that is flying in the air – this component is usually made out of glass so it is susceptible to cracks or breakage. Common problems with windscreens include cracks, chips and even spider webbing which could jeopardize safety especially when driving at high speeds.
Toyota CH-R Rear Bumper
The rear bumper helps protect both passengers as well as other drivers on the road during collisions – common problems that occur over time include rust that starts forming, large dents or even getting stuck when trying to open/close.
Toyota CH-R Front Bumper
The front bumper helps protect both the driver and passengers during collisions by absorbing some of the shock that's applied to it. Without this component, anyone driving around is at risk of colliding with obstacles on the road – common issues with front bumpers include rust, dents and large cracks because of their proximity to water or anything else found on roads like rocks.
Toyota CH-R Aircon Pump
An air conditioning pump helps keep the interior of a vehicle cool by blowing cold air throughout. Over time, these components tend to wear out because of the heat from driving around as well as weather changes which make it important to have replacements installed before they can cause further damage – common problems with this component include it taking a long time for the ac to kick in, not getting cold enough and slow operation.
Toyota CH-R Shock Absorbers
Shock absorbers help stabilize bumps or holes that are found on roads making sure that passengers remain comfortable while inside a vehicle so as not to compromise safety at all times. The most common problem experienced with shock absorbers is squeaking whenever going over bumps – this noise is caused by the metal rubbing together so it's important to have them examined as soon as possible.
Toyota CH-R power steering
The power steering helps make it easier for drivers to maneuver their vehicles around which makes it an essential part on any car – problems with this component tend to develop whenever the hoses start getting pierced or there are signs of rust forming on them. Common issues with power steering include making loud noises, difficulty in operating and not being able to turn properly even though there's enough fluid inside.
Toyota CH-R window mechanism
A window mechanism that is located within a vehicle helps provide easy access into the driver/passenger seats whenever needed. It is important to have the components checked out whenever there are problems with them because they can pose a danger especially when driving – common issues with this component include windows getting stuck, not going up or down and also not working at all so it's best to get it looked at as soon as possible.
Toyota CH-R window switches
The window switches help operate windows in a vehicle by having drivers roll them down when they want fresh air or roll them up whenever they would like privacy. Common problems involved with these components usually involve broken buttons which then renders the window useless completely even if all other parts work just fine – they're located on either side of the steering wheel so it might be difficult for elderly passengers to reach.
Toyota CH-R door locks
Door locks are important in giving passengers the security that they deserve while riding with someone else by making it impossible for anyone else to open up the doors if they are locked. Common problems associated with doors include an inability to lock or unlock them, not working at all and also the handle getting stuck – one way of checking whether this is a problem particular to one door is by rolling down the window slightly and trying to close/open it from there.
Related:
We Deliver Across South Africa!
If you cannot come and collect your Toyota salvage parts yourself, we use the best couriers in South Africa to deliver to your door. We do NOT have an online store, so all purchases are made via phone calls.
Sell Your C-HR For Parts!
We buy non-runners and accident-damaged Toyota's and sell them for parts. We will consider all vehicle types no matter how bad the damage. If you wish to get cash for your car, please get in touch with us today!
You Are In Safe Hands!
We've handpicked the best salvage yards in South Africa to ensure that you'll have no trouble finding the right parts to fix your car. Our team of auto scrap yard experts have been serving the public for years!
Toyota's Stripping For Spares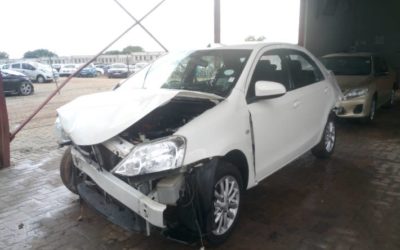 This vehicle is accident damaged and being stripped for spare parts. If you would like to purchase a specific part of this vehicle, please email us through our contact us page. Get Prices For Popular Parts For the Toyota Etios Front bumper Hood Windshield Headlight...