Used Toyota Engines For All Models For Sale
Look through our inventory of secondhand and imported engines. Some of our Toyota engines are imported from Japan and have low mileage and high quality at extremely cheap rates. We take pleasure in offering high-quality secondhand engines at low rates.
Below is a list of engines, along with respective engine codes. That's not our whole inventory; we get fresh goods every month! Whether you want to know if we have a certain engine in stock, enter the engine number and all of your contact information into the part request form.
Once submitted, you may sit back and wait for quotes from Toyota scrap yards. Please contact us even if your motor is not mentioned here.
We Deliver Across South Africa!
If you cannot come and collect your Toyota salvage parts yourself, we use the best couriers in South Africa to track your parcels and deliver to your door. We do NOT have an online store, so all purchases are made via phone calls.
Sell Your Toyota For Parts!
If you have a non-running Toyota and are looking to scrap it for cash we at Sell Toyota For Scrap offer a quick and easy service. With over 20 years of experience in auto salvage, you know your car will be processed professionally and efficiently.
You Are In Safe Hands!
Toyota Parts Finder saves you the hassle of calling countless, different salvage yards to find the right parts to fix your car. We've had these auto scrap yard experts handpick only the best salvage yards in South Africa for easy access and quick delivery!
Toyota's Stripping For Spares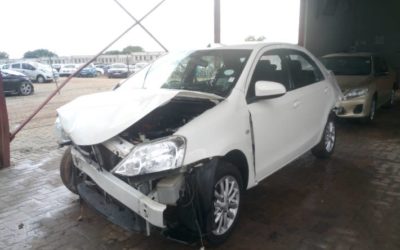 This vehicle is accident damaged and being stripped for spare parts. If you would like to purchase a specific part of this vehicle, please email us through our contact us page. Get Prices For Popular Parts For the Toyota Etios Front bumper Hood Windshield Headlight...
Info on Toyota Engines
Toyota Engines
Toyota powertrains have gained great popularity in the Japanese and world markets. The demand for engines is due to their high reliability, long service life, innovation and excellent dynamic performance. Many engines of the brand are considered millionaires. The ICEs produced are installed from the factory on Toyota, Lexus, Daihatsu and Scion cars. Motors often find a second life in commercial vehicles and tuning enthusiasts.
History Of Toyota Engine Manufacturing
Toyota was founded in 1924. Initially, the company was engaged in the invention and manufacture of weaving looms. In 1930, Toyota began manufacturing a gasoline-powered cars. In 1934, the company released its first Type A motor. It was used on the first A1 passenger car, the G1 truck and the AA passenger car.
At the moment, Toyota has become the largest Japanese automotive corporation with several lines of business. In 2012, the company managed to overtake Volkswagen and General Motors in the number of cars produced and sold. Toyota engines are produced all over the world. The main part of power units is developed and manufactured at factories:
Kamigo Plant;
Toyota Motor Manufacturing Kentucky;
Shimoyama Plant;
Kamigo Plant;
Deeside Engine Plant;
Shimoyama Plant;
North Plant;
Tahara Plant;
Tianjin FAW Toyota Engine's Plant No. one;
Toyota Motor Manufacturing Alabama.
Toyota has a wide range of engines that includes gasoline, diesel and hybrid engines. Most of the lineup is represented by naturally aspirated and turbocharged four-cylinder internal combustion engines. The company also has a huge variety of six-cylinder in-line and V-shaped engines. On large and powerful cars of the concern, you can find power units with a configuration of V8, V10 and V12.
Some Toyota engines have an incredible amount of tuning room. Together with an impressive margin of safety, this ensured a great demand for brand motors among internal combustion engine forcing fans. Powertrains are often used for swap. They can be found in sports cars, commercial vehicles, passenger cars and crossovers.
Decoding of engine marking
There is a number at the beginning of the engine index. It serves to determine the serial number of the power unit in the series. Very often, a lower number means an earlier year of development; in some series, the larger the number, the larger the engine volume.
The number is followed by a letter. It is the most important in the name and defines the series of engines. Such motors are similar in design but may differ in the year of development or displacement. Moreover, the entire series has common advantages and disadvantages. Since 1990, the series is indicated by two letters.
There is a dash after the episode. The letters follow. They indicate the design features of the power unit. You can see the explanation of the suffixes after the dash in the table below.
Suffix Description
Suffix
Description
A
Variable valve timing system Valvematic
B

In pre-2000 engines, indicates the presence of two SU carburettors.

In powertrains after 2000, B speaks of the need to use ethanol as a fuel.

C

Optional emission control system.

On early engines, C indicates the presence of a carburettor

CI
Electronically controlled single-point fuel injection.
D

Before 1996 means the presence of two carburettors.

Since 1996, D has been found in diesel engines.

E
Classic electronic fuel injection
F
The engine has narrow economical valve timing
G
The engine comes with wide productive valve timing
H

The internal combustion engine has a high compression ratio.

In the case of a turbine, inflation occurs with high pressure.

I
Centralized fuel injection
J
Auto choke
K
The power unit operates according to the Atkinson cycle
L
Transverse arrangement of the motor
M
The engine is designed for the Flippin market
N
The power unit runs on methane
P
The internal combustion engine runs on liquefied gas
R
The internal combustion engine has a low compression ratio, which allows refuelling with low-octane fuel.
S
Vortex mixing
SE
Direct injection
T
Turbocharged engine
U
Catalytic converter meets Japanese standards
V
The motor is equipped with a Common Rail Diesel Injection system
X
Hybrid ICE.
Z
A charged version of the motor with a mechanically driven supercharger
Toyota gasoline engines
Early Toyota powertrains are highly reliable. They have a predominantly cast iron cylinder block, which provides a large margin of safety. The company is famous for its million-strong engines. At the same time, the motors have a well-thought-out design and are easy to repair.
Modern Toyota engines are designed to be economical and environmentally friendly. Their cylinder block and cylinder head are cast aluminium. As a result, the internal combustion engine resource is 200-300 thousand km. Motors have become more sensitive to compliance with the maintenance regulations and the quality of the fuel being refuelled.
Most Toyota engines have no weaknesses or design flaws. ICEs have a good layout and are thoughtfully placed in the engine compartment. Therefore, to eliminate minor faults and carry out maintenance, there is no need to dismantle many components. Therefore, all car services willingly undertake the repair and maintenance of Toyota engines.
Modern internal combustion engines have a more complex design than motors of previous generations. The new engines have acquired a significant amount of electronics. Finding a faulty sensor is often impossible without special equipment. Fuel injection problems are often caused by poor quality gasoline.
An overhaul is advisable only for early Toyota gasoline engines. With its help, it is possible to restore 85-95% of the original resource. The company's modern ICEs are considered disposable. In case of serious damage or high output, it is recommended to replace the motor with a new or contract one.