ABout Us
We represent local South African Toyota Scrap Yards, selling used and new Toyota spares.
FIND YOUR PARTS
More Info About Us
Used Spares Vs New Spares
Our suppliers only have high-quality spare parts in their warehouses. Despite the fact that these spares were already in use, they can still function properly for several years. These are exclusively original parts that combine with the brand of car. The assortment is wide, sorted by model and year of manufacture.
Why Used Parts Is A Smart Choice
Car owners know that buying a new original part results in a round sum. Toyota scrap yards in South Africa offer used parts at the best prices. These are original parts in perfect working condition, which turn out to be much cheaper than new ones. When buying already used parts, it is best to choose a responsible auto-dismantler. Toyota Spares Scrap Yard – an organization that offers customers only quality products at a reasonable price. We represent only original products, which are not inferior in characteristics to new ones.
We Deliver Across South Africa!
If you cannot come and collect your Toyota salvage parts yourself, we use the best couriers in South Africa to track your parcels and deliver to your door. We do NOT have an online store, so all purchases are made via phone calls.
Sell Your Toyota For Parts!
If you have a non-running Toyota and are looking to scrap it for cash we at Sell Toyota For Scrap offer a quick and easy service. With over 20 years of experience in auto salvage, you know your car will be processed professionally and efficiently.
You Are In Safe Hands!
Toyota Parts Finder saves you the hassle of calling countless, different salvage yards to find the right parts to fix your car. We've had these auto scrap yard experts handpick only the best salvage yards in South Africa for easy access and quick delivery!
Toyota's Stripping For Spares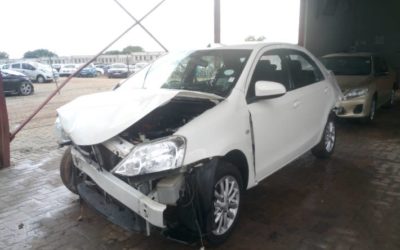 This vehicle is accident damaged and being stripped for spare parts. If you would like to purchase a specific part of this vehicle, please email us through our contact us page. Get Prices For Popular Parts For the Toyota Etios Front bumper Hood Windshield Headlight...